Speedflex End Seals
A"rotary doctor blade" delivers industry leading abrasive wear resistance.


In an effort to gain a competitive advantage flexo converters continue to push the envelope when it comes to achievableline speeds with today's press technology. In many cases ink leakage and slinging due to the extreme forces applied to end seals dictates a speed threshold.

Surpass the "known threshold" and ink chamber blow-outs and rapid end seal failure occur.

SpeedFlexTM is a patent pending flexo end seal designed to optimize today's gearless speed capabilities.

The two component structure of SpeedFlexTM delivers a unique combination of an ink-tight seal combined with industry leading resistance to abrasive wear. A "rotary doctor blade" is incorporated into the body of each SpeedFlexTM seal, supported by a unique suspension system that ensures intimate contact is maintained with the anilox roll surface.

Finally, an-ink tight end seal with abrasive wear resistance that stands up to today's extreme press speeds. Optimize your press investment with SpeedFlexTM.


Patriot End Seals
Dedication to flexo end seal manufacturing is part of our daily routine. There are many inflated claims when it comes to the best method of manufacturing flexo end seals. Experience has clearly taught us that there is no one manufacturing process that satisfies all end seal applications. For this reason our production consists of mechanical die-cutting, water-jet shearing as well as injection molding. Our inventory of raw materials is based on over two decades of R&D with enclosed ink chambers, anilox rolls and a variety of ink formulations. This unique diversity is a great benefit to the flexo printer.


CleanFlo Magnetic Ink Filteration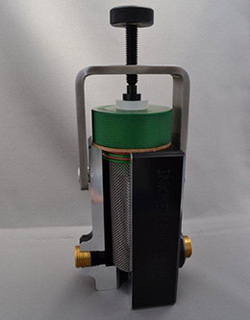 Regardless of how stringent your housekeeping standards may be, contaminants will find a way into your ink stream. The origins of these unwanted particles can be vast:
corrosion from solvent supply lines
hardened ink particles that have bonded to the inner walls of the delivery/return hoses; often releasing unexpectedly.
chips of ceramic or chrome from the ends of your engraved cylinder
ferrous particles due to natural doctor blade wear
paper dust from the plant atmosphere
At Tri-X Incorporated they don't just manufacture ink filters; they deliver a complete ink filtration program to your pressroom. A program that is easy to implement and simple to maintain. The system delivers the necessary documentation to clearly demonstrate your company's commitment to compliance when it comes to protecting the global food supply chain. AIB International and other industry associations are more than aware of the importance of an efficient ink filtration program in flexo and gravure pressrooms. CleanFlo™ magnetic ink filters operate in-line; ensuring 100% of the ink delivered to each print deck is continually filtered. Unwanted contaminants and metallic carbides that result from natural doctor blade wear are trapped and removed from your ink stream.
---