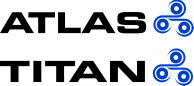 Information on Atlas Titan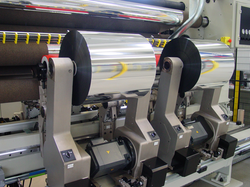 Atlas & Titan provide world leading slitter rewinder technology for the global converting industry.

Atlas provides the world's largest & fastest slitter rewinders for BOPP film production lines and has installed more than 200 film slitters worldwide, exceeding 6m in width. This includes the widest at 10 metres and the fastest at 1500 m/min., with precise control of web & winding tension. In recent years, Atlas has increased sales of primary & secondary slitter rewinders for BOPET and other types of film.

The next generation Atlas CW Series technology platform of more compact slitting & rewinding solutions has recently been launched in web widths from 2.5 to 10.4 metres (100 to 410 ins). The CW3600 and CW1040 Series both deliver higher efficiency and productivity, higher quality rewind reels, reduced noise levels and more effective operator control systems.

Atlas is also world leader in technically advanced 2 metre wide slitter rewinders for high volume production of all types of labelstock, including filmic/synthetic materials. There are more Atlas slitter rewinders in the labelstock industry worldwide than from any other manufacturer.

Titan provides secondary slitter rewinders for flexible packaging materials, plastic film, labelstock, laminates & paper. The ER610 is a compact, cantilever slitter with a running speed of 450 m/min (1500 ft/min) and an option for slit widths as narrow as 35 mm (1.37 ins). Its increasing success is reflected in over 100 installations globally.

The new generation TITAN SR9 Series slitter rewinders bring unsurpassed levels of slitting productivity, modularity and rewind reel quality. New features include reduced power consumption, no hydraulics, all electric unwind and overhead web path for a cleaner environment.

Atlas & Titan can also provide fully automated, integrated roll handling systems to meet specific production requirements.


---