Camis Srl has been manufacturing flexo plate-mounting systems for over two decades. The cornerstone of advanced Camis technology is the ability to remove the manual steps from flexo plate-mounting; introducing complete process control to your pre-press department with technology that delivers dot on dot register to the press and industry leading mounting cycles. Camis machines can be mastered in a short period of time, allowing for full width and individual small plates to be mounted with industry-leading registration accuracy. Dot on dot registration is now a reality in your pressroom! From machine installation through on-going service and training, DTM Flexo Incorporated provides domestic support to ensure your plate mounting investment is optimized day in and day out.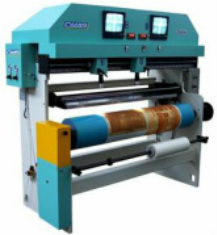 Iriflex----Dedicated microdot mounting machine that can accommodate both sleeves and cylinders. Available in face widths from 40" up to 74" with a repeat range from 11.4" – 47". Simplicity, accuracy, and repeatability are the keys to the IriFlex. The IriFlex is available with a fully automated plate proofing system as an option.

Simplicity, accuracy and repeatabilty is the key to the Iriflex.Standard manual cameras or the optional motorised ones ensure "dot on dot" accuracy while the various options such as the plate laying table and plate lay down roller allow the flexo printer to achieve a higher degree of standardisation from cylinder to cylinder.

---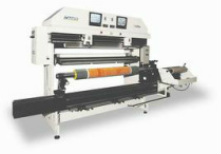 IriSleeve--- is a dedicated sleeve change microdot mounting system. Developed from a "clean sheet" approach the IriSleeve will support your gearless press investment with precisely mounted jobs that can be processed from start to finish in the shortest time-frame possible. Features include very rapid sleeve and bridge carrier change with an automated mandrel support system. The IriSleeve can be supplied with dual or multiple camera configurations. The motorized plate application table and roller reduce your "carpal tunnel footprint" by eliminating the manual wiping of plates and prevent plate lift once the job is installed in the press.

---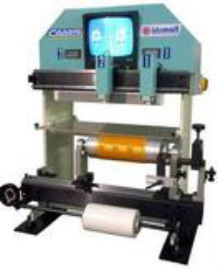 Irismall---A narrow web plate-mounter designed for the modern day label shop looking for top quality registration. Quick, versatile and very accurate. The IriSmall has been developed from the knowledge gained from our successful IriFlex and IriSleeve models. Crafted with steel frames, and then fitted with high precision cameras (optical rail) and cylinder/sleeve support beams. Manually displaced, high magnification cameras are linked to individual digital position indicators. The system can accommodate a combination of integral cylinders, shafted/shaft less cylinders as well as air loaded sleeves. Quick, versatile and accurate it's our narrow web plate mounter designed for the busy label and tape printer.

Fitted with high magnification manually displaced, they are linked to individual digital position indicators, allowing multiple plates to be laid without the need for extra cameras.

---
Unique Features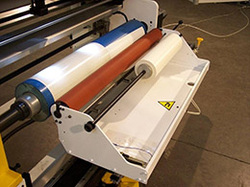 Unique features/options: Taper-slide
The patented taper-slide has been engineered to apply stickyback in a controlled manner; eliminating the human element from this critical step in plate mounting. The formation of air bubbles, creasing and stretching of tape when applied by hand are well known causes of poor registration and press downtime. By utilizing the taper-slide stickyback is applied precisely to the surface of the sleeve or cylinder with consistent pressure, day in and day out, eliminating the negative issues noted above. The system is versatile, allowing the operator to switch between different tape widths, densities and thicknesses in a matter of seconds.

---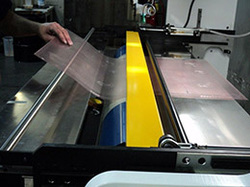 Unique features/options: Plate Application Roller
Once your printing targets are in register the operator engages the plate application roller. Simply press a button and the roller contacts the printing plate, applying even and consistent pressure to both the image and non-image area of the plate. By eliminating the manual step of wiping down a plate by hand there is a significant reduction in the time it takes to apply. The roller system is designed to wet-out 100% of the adhesive beneath the polymer plate, preventing air bubbles from developing in the press once the job is brought up to speed.

---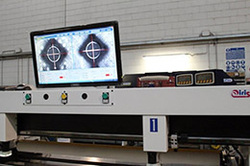 Unique features/options: User friendly PLC
The PLC utilized in fully automated Camis systems is very user friendly and designed to further simplify plate-mounting through automation. Using a touch-screen, the operator enters job specific data and the technology takes care of the rest. Cameras automatically move into position and advance at the push of a button. Job data is stored in memory for future reference, further reducing mounting cycles the next time the job runs.

---

See Camis In Action