Designed with the intention to optimize print quality and obtain considerable waste reductions, after extensive laboratory tests, the new doctor blade chamber is now in full production, with great satisfaction of the users.

Packaging Plast have installations of thousands of carbon fiber doctoring systems worldwide to improve the performance of every type of flexopress manufactured. Packaging Plast provide systems for corrugated printers, tissue decorators, label machines, litho tower coaters, newspapers, coating units, envelope printers.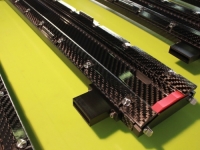 The carbon fiber material chosen for its construction while offering a rigidity higher than 300% is also 70 % lighter than aluminum , easy to move, without the use of forklifts. When in contact with water-based inks , solvents and glues it does suffer any type of corrosion. Moreover, the carbon fiber absorbs vibrationsensuring a higher print quality.

The reduced volume of the chamber and its special anti - adhesion treatment allow a savings ofapproximately 11% of ink fed into the circuit , as well as 60% less water during the washing cycle, compared to a conventional aluminum doctor blade chamber.


Thanks to its support structure, it is no longer necessary to dismantle the chamber for the replacement of doctor blades and seals, while the low pressure required for the operation considerably reduces the life of the blade and doubles the one of the counter-blade.


---